I was inspired to make this birdcage by Steff who is brownbabycraftaholic on Youtube. She made one and I thought it was so cute I had to try it. After I made mine I seen she had a tutorial lol, wish I would have seen it before but I made mine a bit different but that is ok. Check out her tutorial if you want a fun project to do.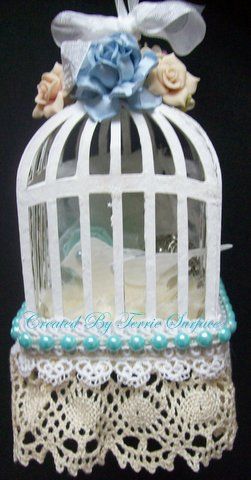 I used four different trims and laces on the bottom of the cage. Inside I made a nest from shabby sheek flowers and I put a small silk/organza flower and a old piece of jewelry behind the bird.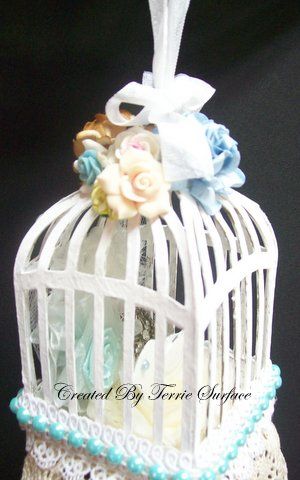 There is white seam binding at the top in a bow and enough to hang it up if wanted. I used flowers from Sacrafter, Wild orchid crafts, and porcelain.
I made this birdcage so it can either be sat on a base or hung from a shelf or where ever you want to hang it. I painted the chip board white, I wanted it to look like old medal. I really love the way it turned out. Thanks for looking...
Hugs N Loves
Keep Crafting...........Terrie
Designed By Terrie Surface copyright © 2012 onecraftycookie