Pin Cushion and Pins..
Yesterday I made this pin cushion and pins. The pin cushion is made out of a can from Smokehouse Almonds, my excuse I had to eat them all so I could use the can for the pin cushion LOL...I love how it turned out, I used green velvet for the cushion from a old dress I found. I do like to reuse stuff that I would normally have thrown away years ago. I have only been altering for a short time, I started making cards about two years ago but altering I've only been doing for less then a year. Although years ago I would put contact paper over light switch covers, I don't think that compares to the altering I do today. Hope you like the pin cushion I made.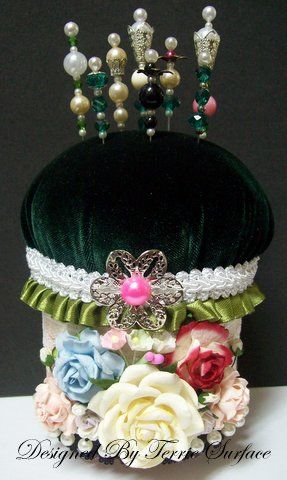 On the Pin Cushion I also used paper from the Coral Coutour paper stack. I used a metal flower that my friend Peggy gave me and wild orchid craft flowers. Beautiful trims and beads for the feet. I really do love how it came out.
Keep Crafting...........Terrie
Designed By Terrie Surface copyright © 2012 onecraftycookie